Many resellers want to make the accounts of their clients as unique as possible. cPanel/WHM has a feature for branding which helps customize the view clients get when they login into their cPanel or Webmail. This allows you to add your own cPanel logo instead of the default one and also upload your own help page together with documentation for your clients to read directly on cPanel. What you'll need before you begin this guide you'll need the following:
Access to the WHM (Web Host Manager)
Step 1 — Navigate to customization section of WHM
Firstly you need to access WHM (usually it can be accessed via www.yourdomain.com/whm or www.yourdomain.com:2086) and enter the customization in the search bar to open the necessary menu item: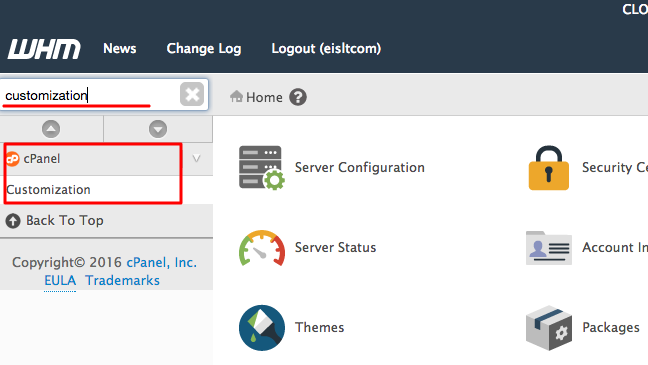 Step 2 — Making the necessary changes
Now you should see the customization window on which you can change these values: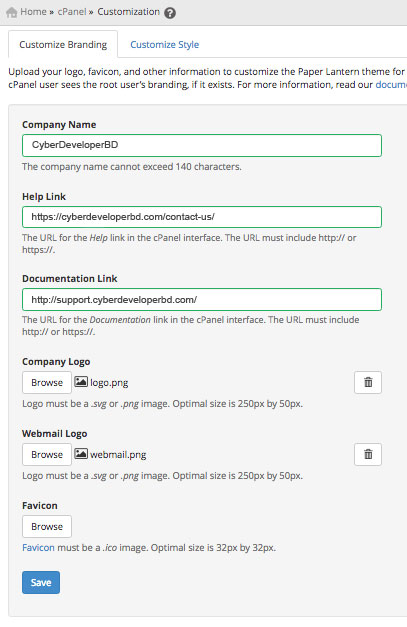 Company name – Your web hosting company name.
Help Link – A link to a page containing helpful tips for your clients (it can be a simple page created on your own website)
Documentation Link – Another link for your clients to a page whose contents should help with the usage of cPanel (it can be a simple page created on your own website).
Company Logo – A logo which will appear at the top left corner instead of the cPanel logo. (Allowed formats: .PNG or .SVG)
Webmail Logo – A Webmail logo which appears on the top left corner when the client is checking his emails via browser (.PNG or .SVG format images are allowed).
Favicon – Also known as website icon, tab icon. It appears in the browser tab next to the web address (.ico format allowed only).
Once you are done with cPanel customization, press Save button at the bottom of the page.
Step 3 — Checking the changes
Now you can login to the cPanel as a client or as a reseller and you should already see changes. Here is a view of the changed cPanel icon: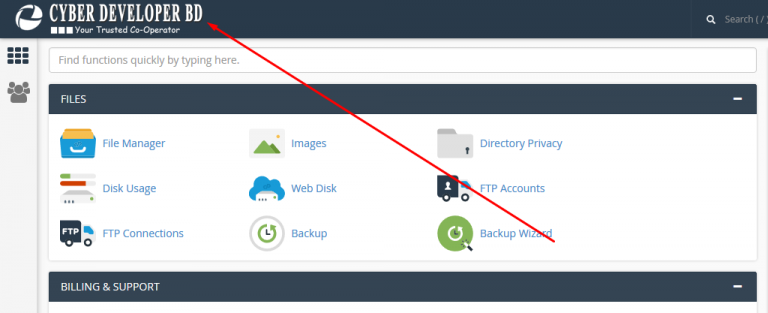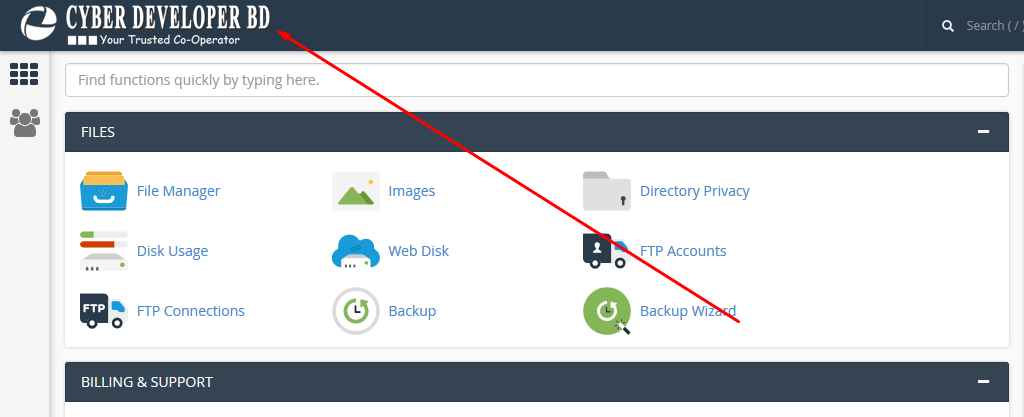 If you have updated the fields with documentation and help links, they will appear at the right bottom corner of cPanel: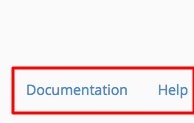 Every client likes and appreciates the effort you make to feel him important and unique. This great cPanel/WHM tool helps to update the default view of cPanel (change cPanel logo) and make to a more personal one and allows a reseller to promote his business more easily.
WHM is the control panel for administering a server, and allows you to create and manage cPanels, and set certain global settings that apply to all the accounts, or the server. WHM is available on most of our Linux hosting plans, including Reseller Hosting, VPS and Linux Dedicated Servers.
Comments
comments